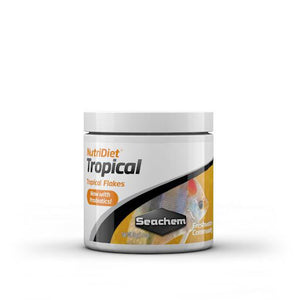 Seachem NutriDiet Tropical Flakes 30g
Regular price
Sale price
$10.20
---
Seachem NutriDiet Tropical Flakes 30g
NutriDiet® Tropical Flakes are formulated to provide all essential nutrients for all tropical fish. As with all of the Seachem NutriDiets, Tropical Flakes have Chlorella Algae as an exceptional source of a broad range of vitamins, amino acids as well as all other nutrients required for animal life. Chlorella Algae is considered a potential super food that far surpasses the nutrients delivered by Spirulina Algae common to other diets. Additionally, Tropical Flakes contain GarlicGuard™ as an appetite stimulant and a natural antibacterial/antiparasitic product to protect tropical fish from the myriad of infections and infestations of bacteria and parasites.
Vitamin C allows for enhanced immune function and collagen production and thereby tissue repair and growth. Natural color enhancers assist in making the most of the potential color of any tropical fish.
Tropical Flakes also contain probiotics which allow for more rapid and simplistic digestion of the partner nutrients. Less energy is required by the fish to digest the food. The food is more completely digested allowing for less waste production in the aquarium. This also allows for more nutrient uptake and increased immune function. Lastly, patent pending compounds complete the formulation to enhance immune function further as well as extend life potential, promote natural growth, and enhance the color of fish.
Specifications:
High in protein and a rich assortment of vitamins and minerals
Fortified with GarlicGuard™, Chlorella Algae, and Vitamin C
Contains probiotics, which reduce waste and benefit nutrient uptake as well as the immune systems of fish and inverts
---
NutriDiet® Advantages
Chlorella
Probiotics
GarlicGuard™
Vitamin C
Chlorella
It is an attractive food source because, and has been deemed a "Super-Food" as it is high in protein and other essential nutrients. When dried; it is about 45% protein, 20% fat, 20% carbohydrate, 5% fiber, and abundant in minerals and vitamins and satisfies all of the requirements of a healthy and balanced fish diet as established by the National Academy of Sciences. It is the highest-known source of chlorophyll. While these are all beneficial, the greatest value of chlorella lies in a fascinating ingredient called Chlorella Growth Factor (CGF). CGF is a water soluble nucleotide-peptide complex found only in chlorella. It is responsible for the rapid rate of growth of the alga. Experiments with microorganisms and animals have shown that CGF promotes faster than normal growth without adverse side effects by naturally catalyzing the DNA to RNA to protein conversion. It stimulates tissue repair and protects cells against some toxic by-products of rapid growth. The process used in preparing Seachem chlorella products has been specially designed to maximize the CGF content retained in the final product. The effects of CFG are only observed in algae whose cell walls have been perforated, as the wall is composed of material that cannot be readily digested. The Seachem protocol breaks open the cell wall, allowing the cell contents to be fully available for digestion.
---
Directions
Feed 1-3 times daily. Feed as much as the fish will consume in three minutes of feeding.
Ingredients: Whole Fish Meal, Wheat Flour, Wheat Gluten, Soy Protein Concentrate, Wheat Middlings, Squid, Brewers Dried Yeast, Xanthophyll, Fish Oil, Soy Lecithin, Chlorella Algae, Garlic, Vitamin E Supplement, Stabilized Vitamin C, Inositol, Niacin Supplement, D-Calcium Pantothenate, Pyridoxine HCL, Riboflavin Supplement, Thiamine Mononitrate, Menadione Sodium Bisulfite Complex (Vitamin K), Folic Acid, Vitamin A Supplement, Biotin, Vitamin D3 Supplement, Vitamin B12Supplement, Zinc Sulfate, Manganese Sulfate, Copper Sulfate, Ethylenediamine Dihydriodide, Sodium Selenite, Choline Chloride, Calcium Propionate, Beta Carotene, Bacillus Subtilis, Bacillus Lichenformis, Bacillus Pumilus
Probiotics: 2,000,000 CFU/g (B. Subtilis, B. Lichenformis, B. Pumilus) time release
Guaranteed Analysis
 
Crude Protein (minimum)
48.0%
Crude Fat (minimum)
8.0%
Crude Fiber (maximum)
2.0%
Moisture (maximum)
4.0%
Phosphorus (minimum)
1.0%
Ash (maximum)
8.0%