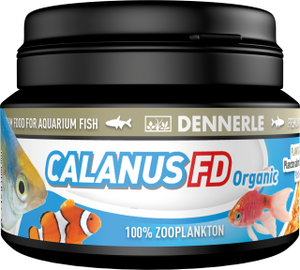 DENNERLE Calanus FD Organic 12g(100ml)
Regular price
Sale price
$13.00
---
Plankton food for all ornamental fish. The 2-3 mm Calanus zooplankton feed on single-cell microalgae that serve as "vitamin factories" in our planet's oceans, making them rich in nutrients and full of essential amino acids, proteins and unsaturated omega-3 fatty acids.
Calanus is the nutrient base for the gigantic schools of herring found in the North Atlantic, and is the most important link in the food chain there. Naturally occurring carotenoids, in particular astaxanthin, help produce vibrant colours.
Fish love the taste of Calanus, and even tricky fish caught in the wild can become accustomed to dry food using this natural food. Calanus FD organic is a suitable supplementary food for all types of aquarium fish.
Calanus FD is produced by freeze-drying, which preserves nutrients and aromas, and therefore has many advantages over commercially available frozen food.
CALANUS FD ORGANIC -FREEZE-DRIED PLANKTON
(FREEZE-DRIED)
- High proportion of natural colour-boosting ingredients
- Encourages spawning and reproduction
- Also suitable for larger fish (size 2-3 mm)
- Can be used as an excellent breeding food
-100% zooplankton from the Arctic Ocean (Calanus finmarchicus)
- High omega-3 and carotinoid content
- No preservatives.
Dennerle Calanus FD means feeding based on nature's example. In the wild many aquarium fish eat mostly zooplankton in the form of small crustaceans. The buoyant FD food is made of 100% Arctic zooplankton, Calanusfinmarchicus. With their high nutrient content, these crustaceans enrich the diet of all ornamental fish.
Calanus crustaceans feed on single-cell microalgae, the "vitamin factories" of the oceans, and accumulate their valuable nutrients in their bodies. So you could also describe them as a "super-food" for aquarium fish.
Numerous essential amino acids and proteins serve as valuable nutrients. They form the basis for balanced growth and vitality. Natural marine oils provide readily available energy. The high concentration of essential, unsaturated omega-3 fatty acids is important for the formation and function of the brain and nerves. Naturally occurring carotenoids, in particular astaxanthin, help produce vibrant colours.
TIP: THANKS TO THE HIGH CONCENTRATION OF VALUABLE OILS, AMINO ACIDS AND PROTEINS, CALANIS IS ALSO AN IDEAL BREEDING FOOD.
This fine food snack is not only a hit in terms of nutrition, but also taste. Fish love Calanus. Even "difficult" fish that find dry food unpalatable, or "tricky" wild fish usually eat Calanus with enthusiasm.
PRODUCTION
The plankton for our Calanus food is caught by a small, eco-friendly Norwegian business. Quality control and analysis take place directly on board. Then the plankton is freeze-dried and vacuum packed.
Freeze-drying is a gentle drying process in which the water is removed. During the process the structure is largely retained, and the nutrients and aroma are preserved. This is why it is primarily used in the food industry for high-quality products such as coffee extracts, herbs and vegetables.